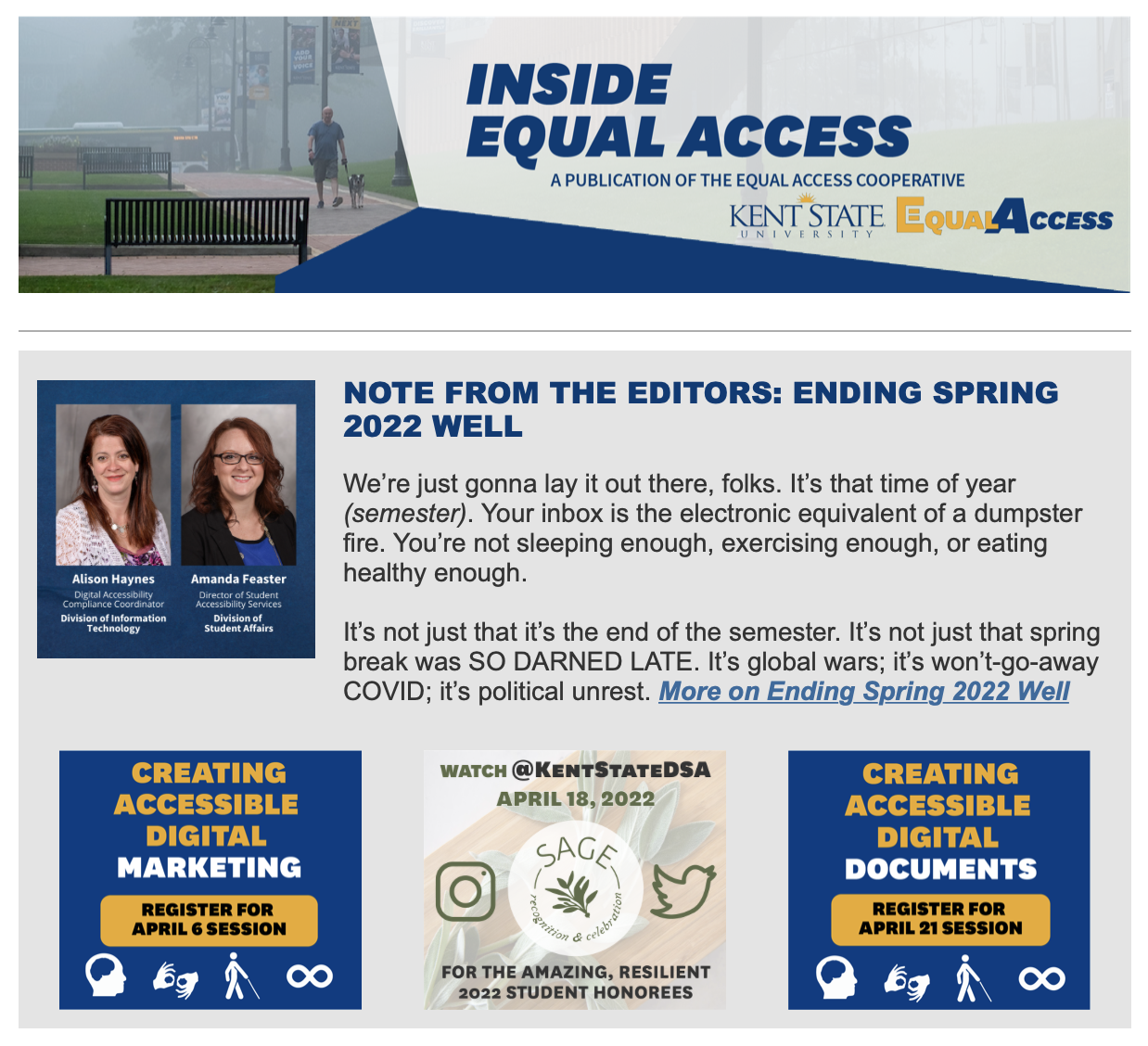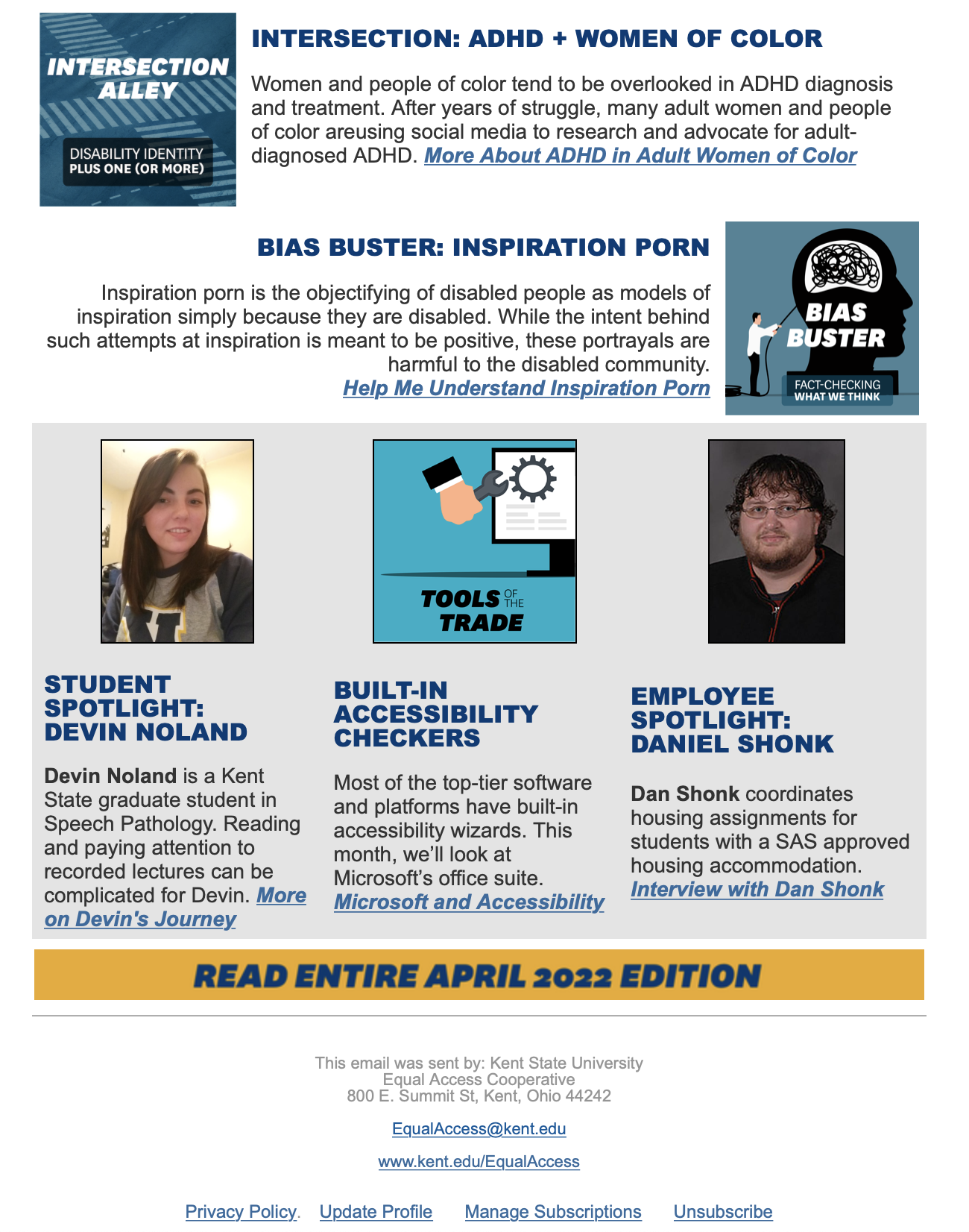 SKILLS: EMPOWERING COMMUNICATION, CONTENT WRITING, GRAPHIC DESIGN, ACCESSIBLE DIGITAL CONTENT, TEAM RECRUITMENT, PUBLICATION, MARKETING CLOUD, TEAM MANAGEMENT, ANALYTICS
Inside Equal Access
motivational and informative monthly newsletter sent to all faculty, staff, and SAS*-REGISTERED STUDENTS
*SAS=Student Accessibility Services
Context: Positive, non-task-related messaging is the only way to change mindset. And when minds are engaged, change happens. Internalizing the "why" of accessibility leads to passion about working to make it happen.
Action: A full seven months before our first publication, I was interviewing and hiring a content writer. After onboarding and training, we began working with partner departments to develop the features and tone of what would become "Inside Equal Access". The datasets and design were housed in Marketing Cloud and the delivery to Outlook inboxes of staff, faculty, and SAS* registered students. Coordinating the accessibility of both platforms and their integration was challenging, but we launched our first fully AT-accessible newsletter in March 2022.
Results: Delivery to almost 9000 recipients, average of 67% open by students and 50% open by employees. Solid clickthrough numbers and an average of over four minutes time on each feature's landing page. Very positive response and a huge boost to Equal Access momentum.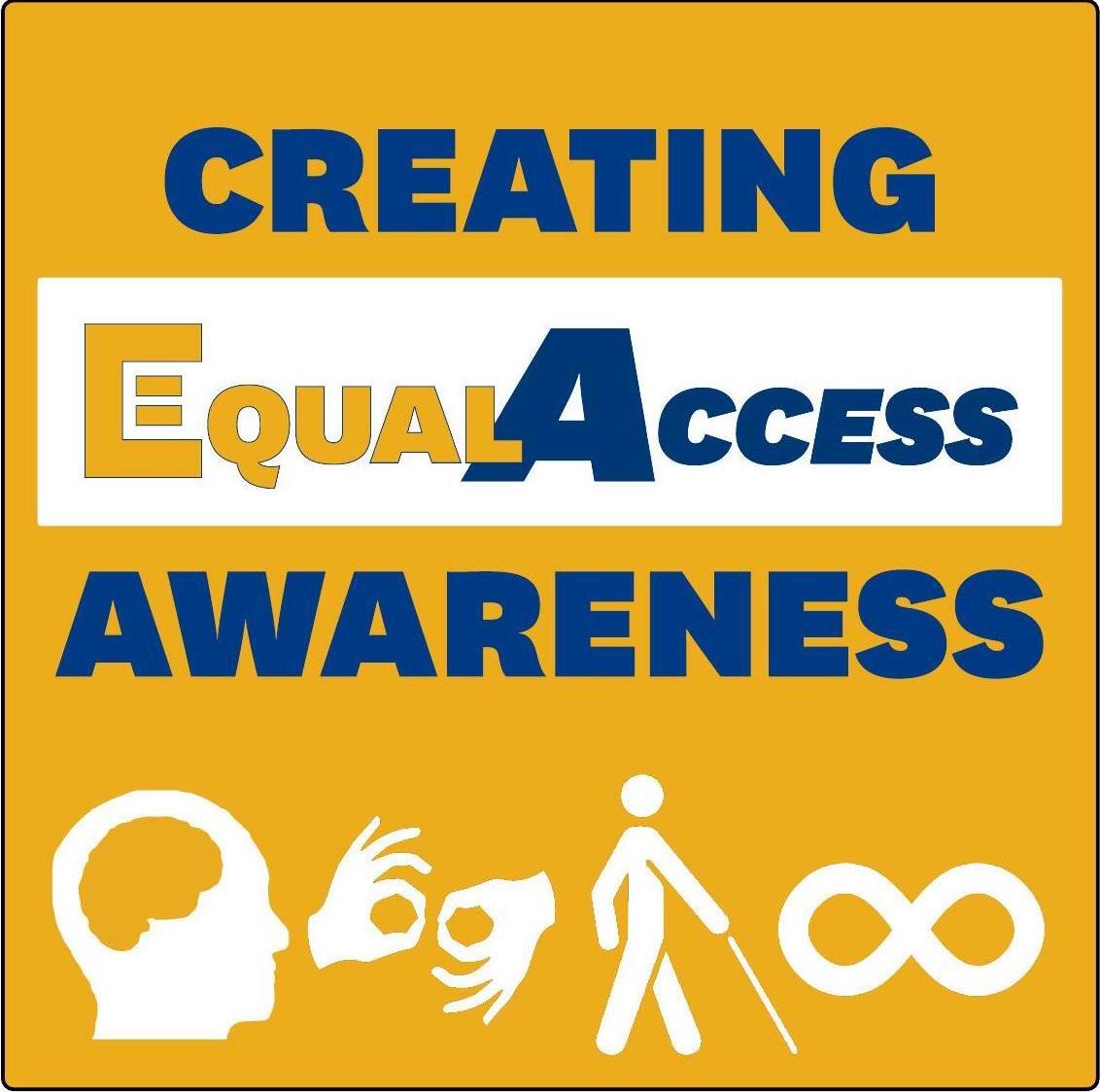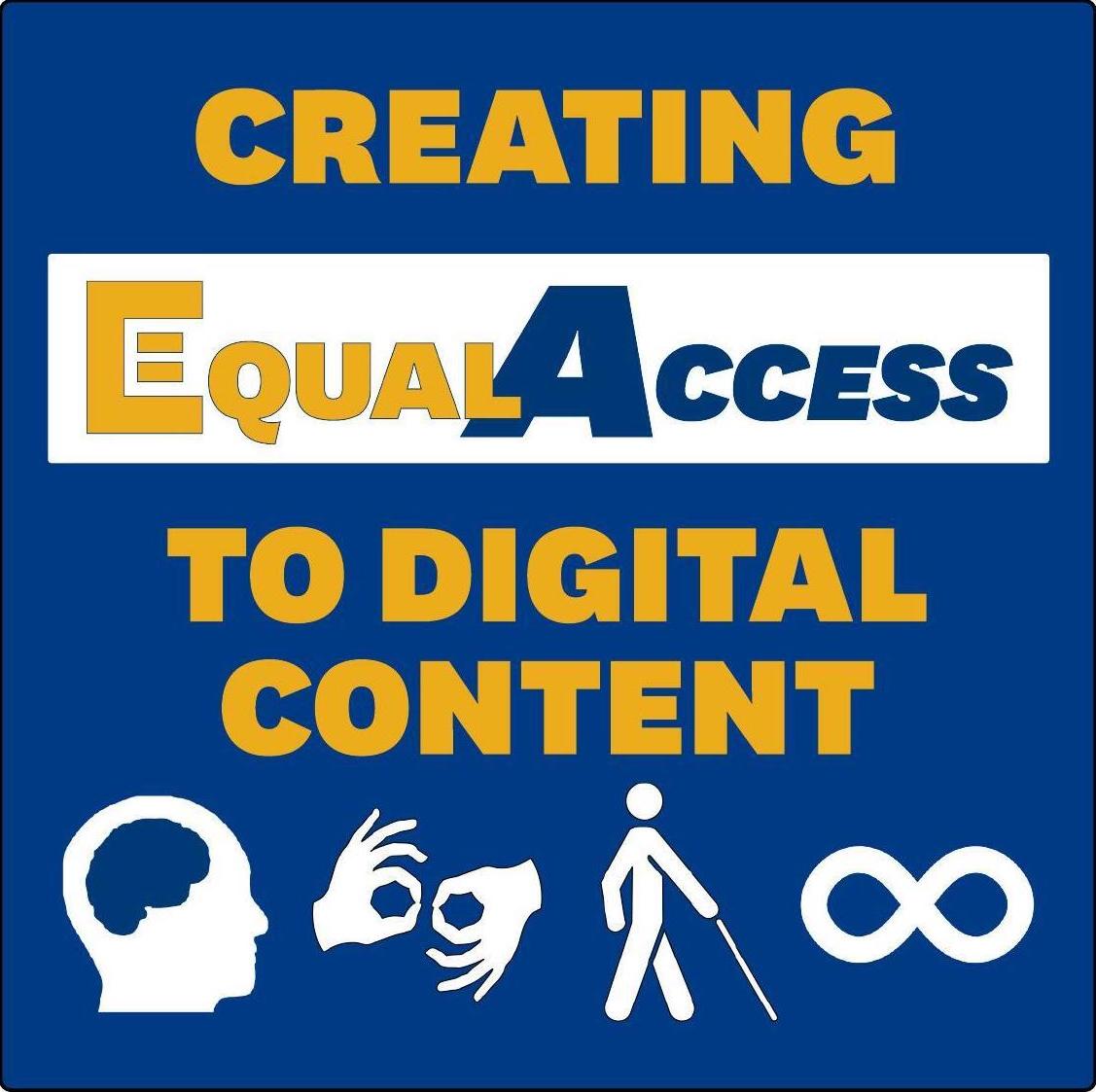 SKILLS: CREATING AND EMPLOYING ENTERPRISE-SCALE VISION; DIGITAL ACCESSIBILITY AUDITING AND STRATEGY; TRAINING AND CLEAR COMMUNICATION
The Equal Access Academy
Diverse, targeted trainings addressing staff, faculty, and student employee learning needs
Context: A digital footprint that meets the needs of over 40,000 users is understandably diverse and broad. Trainings that address the accessibility of so much content will only be successful in a progression of broad accessibility awareness training that leads to specialized, role-based content.
Action: The Digital Accessibility Team partnered with Student Accessibility Services to create a foundational, prerequisite training, "Accessibility Awareness 101" and recommended it as the first course for all academy students. We then created very specialized, 90 minute trainings that teach accessibility best practices for webmasters, marketers, developers, and other creators.
Result: The Academy launched nine trainings its first semester, Spring 2022, and had 530 attendees (400 unique students). The feedback was overwhelmingly positive and engagement soared beyond our expectations. Fall 2022 we will launch faculty and developer specific trainings, as well as custom trainings for student/intern content creators and library staff.
SKILLS: DIGITAL ACCESSIBILITY AUDITING AND STRATEGY; TRAINING AND CLEAR COMMUNICATION
Your Equal Access Strategy
A PLAN FOR ADDRESSING DIGITAL ACCESSIBILITY IN YOUR DEPARTMENT
Context: Kent State is a university with 31,000 students and over 10,000 employees. My team is working to change messaging from fear of lawsuits toward user-focused empathy and developing clear accessibility workflows.
Action: It is impossible to train content creators in every department, so I must "replicate" myself by teaching faculty/staff to audit their own content and develop strategy. A digital document widely shared can reach many more people than individual consultations would and puts the onus for accessibility on the creator. Teaching the strategy on this document in a positive, empowering manner spreads momentum and accessibility initiative.
Lessons Learned: Most people do not need to be convinced of the "why" of accessibility. They need help figuring out HOW. This strategy can be adapted to any campus unit and broadened to a full team effort.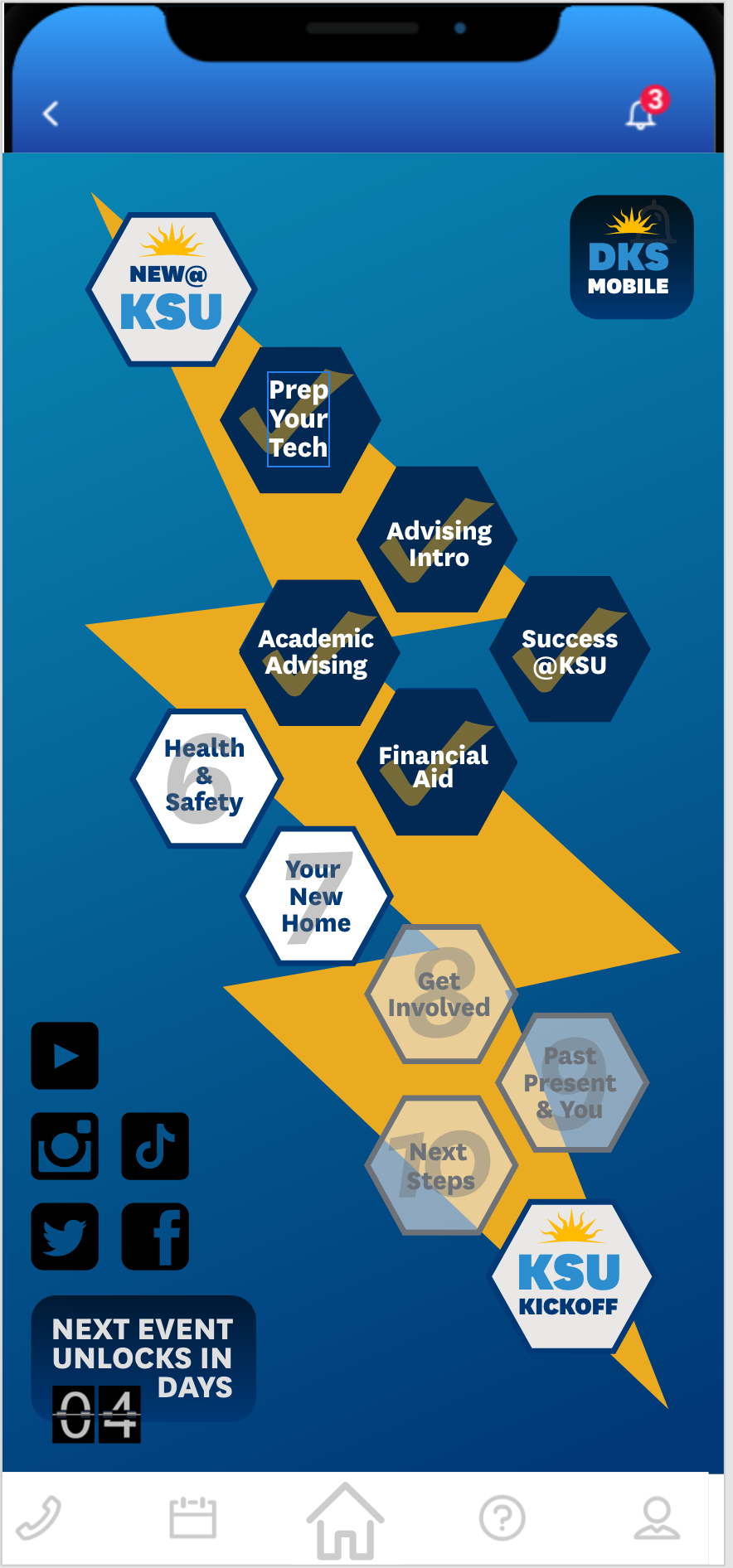 SKILLS: UX RESEARCH, UX DESIGN, STAKEHOLDER COMMUNICATION, AGILE SOFTWARE LIFE CYCLE, ACCESSIBLE MOBILE APP DEV, ACCELERATED DELIVERY
DKSmobile (Destination Kent State) App Design
2020 Pandemic plan for mobile student orientation
Context: Toward the end of March 2020, the administration at Kent State realized that the COVID-19 pandemic meant its new student orientation, Destination Kent State, would not be taking place on campus. They would need a way to hold DKS virtually. Within 24 hours of that decision, I was looped in as UX designer, along with developers from my team. When we sketched out a timeline in early April, we realized that this new DKS app would need to be available for download by May 1, which, including time for app store approvals, gave me nine days to get the initial app design, code, and testing complete for app store submission.
Action: My goal was ambitious: bring the orientation experience to students' homes. I wanted an app design that felt warm and personable, not sterile or perfunctory. From fun design elements like a countdown calendar to framing embedded videos in a retro tv design, I found small ways to show off Kent State's personality. After the initial mobile app went live, new content would be added every two weeks throughout the summer, so I created an ongoing roadmap of new updates for students and their parents to keep them engaged.
Results: This first app for KSU had over 6000 users. Fall 2020, when many colleges were reporting double-digit losses in enrollment percentages, Kent State was only 3% down. The success of the KSUmobile app played a direct role in that victory.
SKILLS: UX RESEARCH, DESIGN, INTERACTIVE PROTOTYPES
TOOLS: ADOBE XD, ADOBE LIGHTROOM, ADOBE PHOTOSHOP, LUCIDCHART
BetterU
A Well-being Tracker for Students aged 16-22
Context: Kent State University's students are in a mental health desert - our on-campus counseling resources are booked out for months and students don't know where else to turn. Since students don't look for help until they're in crisis, they don't have access to coping skills and tools for emotional growth until it's too late.
Action: I conducted significant user research by interviewing students, on-campus health providers, and Residence Services' professional staff. I also conducted a comprehensive market analysis of both university-founded and public apps that deal with well-being or mental health. Then I began ideating and sketching while looping in all my contacts on a regular basis for feedback.
Result: A well-being tracker and interactive learning journey for students aged 16-22 years old. BetterU is designed to help students unpack the complex mix of emotions and thoughts resulting from late adolescence and the stress of university life.
Lessons Learned: The more people you brainstorm with, the stronger your final product will be. So many portions of this app were refined, added, or subtracted due to feedback.  And I welcomed that - there's no sense in making something unless it's useful and needed.
SKILLS: USER EXPERIENCE RESEARCH & ANALYSIS, ICON DESIGN, VIDEOGRAPHY, A/V EDITING
TOOLS: LUCIDCHART, GOOGLE DOCS SUITE
KSU On-Campus Housing Application
User Research and Recommendations
Context: Kent State University's Residence Services had anecdotal information about student and staff's impressions of their main housing application, but no concrete research data.
Action: I conducted significant user research in the form of cognitive walkthroughs and context-of-use analysis. The results showed profound dissatisfaction with the application. The application didn't reflect their mission or values and created mental/emotional roadblocks for students and families.
Recommendations: Go beyond just the elimination of roadblocks into creating an application that empowers students to find their identity through our living communities. Create an experience for a student in which they understand themselves more and have a stronger vision for their future through this application.
SKILLS: USER RESEARCH, WORKFLOWS, HI-FI WIREFRAMES, DEVELOPER COLLABORATION, USER TESTING
TOOLS: LUCIDCHART
Temp Key Checkout App - Web Based
Kent State University Department of Residence Services
Context: Residence Services' Tech Team has been working to move all area desk processes from paper to digital. This project involved checking out temporary room keys to students, with the flexibility to check the key back in and charge the student for not returning the key.
Action: As an area desk coordinator, I had trained students on this system and created the paper workflow documents.  So I created a detailed workflow with all the possible variables accounted for. Then I created hi-fi wireframes in keeping with our brand standards.
Result: I turned the deliverables over to the developers to build, and we launched successfully in October 2019. The tech team added reports for each office so that the entire flow (from checking out a key to charging for a lost key to reprinting that key) can be handled within the microservice.